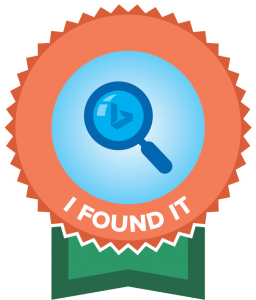 Session 2
Finding it on the internet with Bing and Microsoft Edge
Session description
Welcome to Finding it on the internet with Bing and Microsoft Edge – the second session of the Intermediate level of Course 5: Know and use your Windows tablet device. In this session, you will learn:
Features and functions of a browser (including the URL, tabs, windows)
Effective internet searches
Downloading content from the internet
Microsoft Edge (Favourites, Reading list, History, Find on page, Make a web note)
Bing in the classroom
Bing has answers
Assessment Task
Research the set of topics sent to you by email.
Create screenshots as evidence of searches.
Create screenshots to show that you have cleared your history.
Email all screenshots to a specified email address for evaluation.
Notional Learning Time
When you get your certificate, you will notice that we have indicated Notional Learning Time. This is the amount of time we expect a learner to spend on achieving the outcomes of this session. It is made up of the two hours of the training here, and then the time taken to complete your Badge Assessment Task. It is an estimate and you may find you spend a little less time, or perhaps a little more.
Required existing Tablet skills
Entry Level - Basic