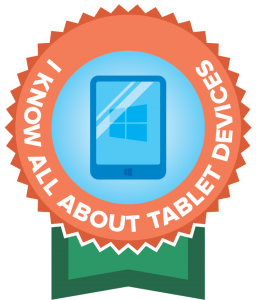 Session 1
All about my Windows tablet device
Session description
Welcome to All about my Windows tablet device – the first session of the Beginner level of Course 1: Know and use your Windows tablet device. In this session, you will learn:
Tablet types (operating systems; screen size; memory; RAM; speed; brands and quality)
Physical device (buttons; camera; audio player; pens)
Taking care of your device
The home screen, icons, pages and the app drawer: getting around (navigation, menus, pinch and zoom, screenshots, launching apps e.g. the camera and audio player apps)
Tablet orientation
Connectivity (WiFi; 3G; Bluetooth)
Data usage (what uses the most data; how to check usage; how to limit usage)
Battery life (what uses the most battery power; how to check usage; how to limit usage)
Assessment Task
Multiple choice questions completed online.
Notional Learning Time
When you get your certificate, you will notice that we have indicated Notional Learning Time. This is the amount of time we expect a learner to spend on achieving the outcomes of this session. It is made up of the two hours of the training here, and then the time taken to complete your Badge Assessment Task. It is an estimate and you may find you spend a little less time, or perhaps a little more.
Required existing Tablet skills
Entry Level - Novice