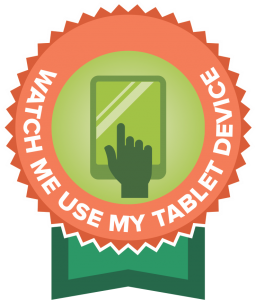 Session 3
My Android tablet device is mine!
Session description
Welcome to My Android tablet device is mine! – the third session of the Beginner level of Course 1: Know and use your Android tablet device. In this session, you will learn:
Personalising the tablet device (wall papers, settings)
Organising the tablet device (home screen pages, folders)
Letting others use your tablet device (multiple user login, keeping data private)
A very brief introduction to social media (what it is, options, security, Facebook, LinkedIn, YouTube)
Assessment Task
The participant creates and shares an email, with specific evidences of how he/she personalised his/her tablet.
Notional Learning Time
When you get your certificate, you will notice that we have indicated Notional Learning Time. This is the amount of time we expect a learner to spend on achieving the outcomes of this session. It is made up of the two hours of the training here, and then the time taken to complete your Badge Assessment Task. It is an estimate and you may find you spend a little less time, or perhaps a little more.
Required existing Tablet skills
Entry Level - Novice